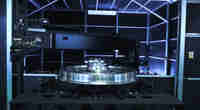 Automatic measuring stations
Amest has won a challenging tender in 2018 from the largest manufacturer of railway components in China (CRRC Sifang) for the supply of 3 automatic measuring stations and is now exporting these stations to the customer after rigorous testing and acceptance.
These stations are capable of measuring all types of wheelsets with different gauges and mounted elements (gearbox, brake discs, etc.). The stations use the patented DMH dynamic measuring heads for measurement, which measure all the required parameters in a short period of time.
Examples of measured parameters:
- Wheel diameters, axial distances of wheels and brake discs from base edges, radial and axial run-out, brake disc wear, etc.